My favorite family tradition of Christmas has got to be acting out the nativity play on Christmas Eve.
It's so beautiful to see those children all dressed up, giggling behind the door getting ready to be Joseph and Mary and the Christ Child. I love their sweet looks and precious eyes that dance with delight as they try to memorize parts or remember where and when to come in.
As a child our family loved to attend an outdoor live nativity pageant in the town we lived in. It had beautiful costumes, live animals and the entire story was taken from Luke and recorded with pretty music behind it.  I will always remember being bundled up and sitting with a cup of hot chocolate watching the actors portray the most beautiful love story- the Nativity.
I used to read the verses from the bible that told the Christmas story, but sometimes that was hard because to get the full story you had to switch through the gospels in search of the next verse. I found a nativity pageant script that was free, and now we use that instead. It all comes directly from the King James Version of the bible, only it's organized for you.
You can download the mp3, which is really pretty and has music behind the readings.
It is on sale right now for $4.99.
Just Click on the photo Below:
If you want to read it yourself, or think $4.99 is too much to pay for a pre-recorded version- you can download the FREE script below.
This is our family acting out the nativity last year with the mp3 soundtrack.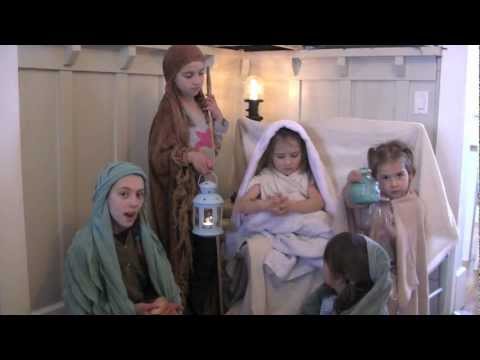 I hope this helps you. I'd love comments on what things you do to bring Christ into your home on Christmas Eve..
Currently there are "2 comments" on this Article: