When I was a little girl I remember seeing older people and wondering how they could live so long in such wrinkly skin. I didn't live near either sets of grandparents and rarely went to visit them. As we celebrate the Christmas Season one of the most rewarding activities we can engage in is Day 22 – Sharing the Christmas Spirit with our kids and others.
It teaches them to to think a little less about themselves and a little more about others. It reminds them of all the things they have to be grateful for (sight, mobility, healthy body, family etc…) And most of all it makes others happy! When I go and visit people I just knock on their door and ask "Hello, can we come sing some songs to you?" Everybody loves music, and 99 times out of 100 they'll say yes and you will have made their day.
It says in the scriptures that "Charity is the pure love of Christ" As you take your children to visit friends and neighbors, and even strangers that are stuck in bed at home or in the hospital, a beautiful feeling fills your heart and for a moment you know what it means to have the pure love of Christ.
It may feel uncomfortable at first, but guaranteed if you can humble yourself enough to realize that nothing you do really matters and it's all God's work that you are involved in, than you'll have whatever it takes to do HIS work.
Here is a video of our kids visiting some of the older people  that we had never met before, but who quickly become our dearest friends….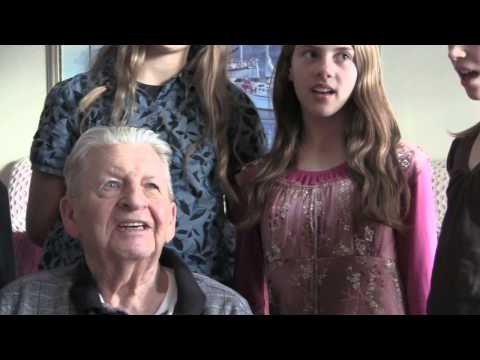 How do you share the Spirit of Christmas with your neighbors? I'd love to know- so leave your thoughts below….
Currently there are "2 comments" on this Article: